Boxing Match.
A slow start to the north continent's seed potato season along with stuttering catches off West Africa kept the reefer market in a lull well through the month of November, until the combination of reefer box shortages in the North Continent and Far East combined to give frozen rates their first boost since the pandemic's onset, aided by larger vessel's repositioning into the Moroccan citrus and Chilean deciduous seasons. Having dropped to a more than four-year low in early November, the uptick in rates for the handysize segment has spurred our ISB Seafield Reefer Index to rebound 6% across weeks 46-50, closing at 848 points.
Unusually for the frozen segment, the marked improvement in sentiment across the last couple of weeks into early December has been devoid of any improvements in catches off Mauritania/Morocco, with no reported fixtures from the later during this period, while below average catches in the former continue to leave volumes from Nouadhibou at seasonally low levels with an estimated > 18,000 mt fixed during November – a direct cause of the persisting double-digit spot list in the area throughout Autumn.
Brighter prospects elsewhere however have prompted a large number of these idle vessels to ballast to the North Continent, where the early licensing issues for the key seasonal seed potato trade into Algeria appears to have receded as GreenSea tonnage has begun to flood into the Netherlands during weeks 48-49 for their annual COA. Meanwhile spot requirements from France and Denmark have pulled in further tonnage, helping to ease supply pressures elsewhere in the Atlantic. While the potato season as a whole is unlikely to be record-setting, the re-emergence of reefer container shortages in the North Continent has diverted some of the typically containerised volume into conventional reefers, as also seen in the frozen fish trades with a rush of Norwegian Herring fixtures direct to Nigeria as well as now more than weekly reefer shipments for the Dutch suppliers into West Africa.
The source of this latest round of reefer box shortages is the Far East, more specifically China where theories that Covid-19 may have originated from cold-chain imports have contributed to stringent import checks and disinfection of frozen cargoes creating long delays and a bottle-neck at several Chinese ports that is leaving reefer boxes stranded. Frozen fish cargoes originating in the Russian Far East have increasingly been diverted to Busan, where transhipment to conventional reefers for onward carriage into West Africa has become a budding trade for vessels in recent weeks as the lack of reefer boxes has caused a rise in interest for large parcel shipments, with an accompanying increase in rates.

Outlook:
After months of decline, Reefer Owners will be hoping that the market's recent upturn will prove more than a dead-cat-bounce. Leading into the end-year holiday period, signs are positive, with the shortage of reefer equipment set to remain at the root of this. Continued enquiry for reefer tonnage from the Far East for frozen cargoes into West Africa – particularly for large parcel sizes – combined with a strong Moroccan citrus season and the onset of the Chilean deciduous trade will likely keep > 400,000 cb.ft. panamax reefers in healthy demand into the New Year. Meanwhile seed potato shipments are holding steady, and with slight improvements in the Mauritanian catch being reported, Operators of handy vessels will be aiming to hold on to their recent gains through into 2021.
Select Fixtures from Wk 45-50: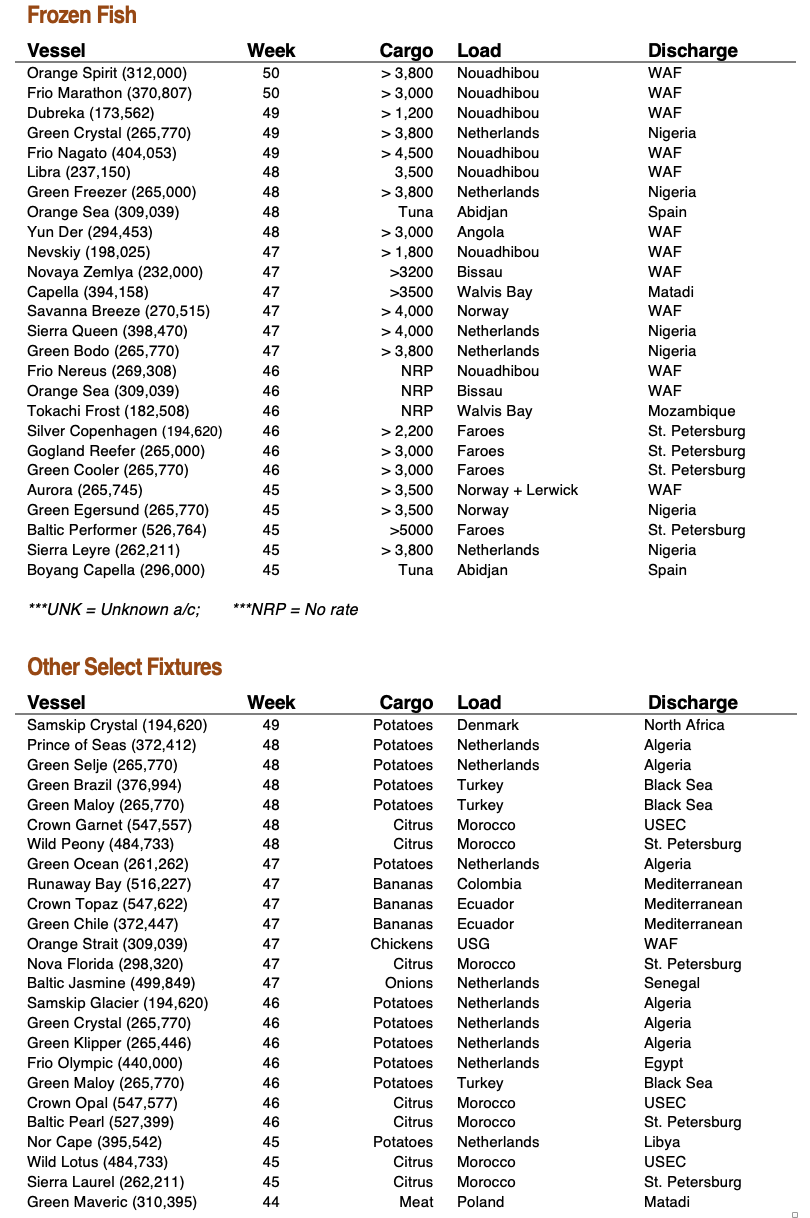 Seafield Reefer Index

270,000 cu.ft. TCE returns