🚀 

Too the Moon! 

🚀

The deepening market-wide shortage of reefer vessels has shown no signs of easing, and with many Shippers unable to secure reefer boxes, the rising demand has ensured most tonnage is fixed forward at a premium, while spot lists for prompt orders are near non-existent. This has led our ISB Seafield Reefer Index to jump 34% since the start of May to 1,754 points by the close of week 26. Reefer spot freight rates rocketed with the large shippers/producers taking the lead in ensuring that they have sufficient capacity available in the coming months to cover their peak season requirements, leaving smaller traders in their wake as they struggle to adjust to the rate surge.

The worsening crisis in the container market is the stand-out driving factor. While global reefer shipments contracted marginally last year during the peak of the pandemic, volumes are steadily recovering, with 2-3% growth estimated for this year. Repositioning of empty reefer boxes has failed to keep pace with this trade recovery, however. Dry box trades are also on the rise, and with a surge in Chinese exports for post-Covid inventory re-stock, reefer shippers have been dealt a double-blow: dry boxes are paying more, taking priority space from reefer shipments out of the Far East, as well as severely limiting slots for repositioning of empty reefer boxes back out of China. Shippers in South America who depend on the re-positioning are particularly affected, which has led to the resurgence in conventional reefer demand. Meat trades from Brazil have partially returned to conventional tonnage, with numerous vessel's fixing into Itajai at increasing premiums over the last number of weeks, straining the supply elsewhere in the Atlantic.

As enquiries have gained pace from these non-core trades, Charterers in the frozen fish markets have frequently seen rates bid-up daily on the few vessels that remained on the table, with many forced to fix more than three weeks forward amidst the frenzied demand for tonnage. This comes just as catches in Mauritania are beginning to show sustained improvement, while demand is growing in the North Continent where the first of the season's Faroes Mackerel cargoes are now loading. Amidst this, Charterers have been further hit by the rainy season in West Africa, which has caused slow discharging and congestion at a number of ports, creating missed laycans and laytime headaches. Lagos has been worst hit. Average waiting times for reefers is now exceeding 10-14 days as the main ENL terminal has limited reefer berths in favour of general cargo vessels that can discharge through the rain. Liner-out options are unsurprisingly off the table until this resolves.

There's been no respite for the fresh trades either, as they struggle with their own congestion and scheduling woes. Prolonged queueing at Pusan continues as the armada of reefer's discharging squid into the region clear through at a snail's pace, which combined with Covid-related discharge delays in China has prompted a number of vessels to miss their next citrus/kiwi positions in the South. Added tonnage is required in New Zealand to service the kiwi export volume on the back of box shortages which has also hit citrus shippers from South Africa who are demanding extra conventional tonnage. Options are therefore aplenty for Operators, if they can position the vessels.

Outlook:
There's no summer doldrums this year as the market looks set to stay hot. Just 1-2 small/mid-sized reefers were open on the Atlantic eastern seaboard at the close of week 26 and NEAFC / derricked tonnage is becoming scarcer than hen's teeth. Feverish demand for reefers is unlikely to end soon as the container crisis prolongs, suggesting the recent hike in freight rates is no longer a spike, but a sustained lift in the market and charterers need to prepare for this for some time to come.
Select Fixtures from May/June: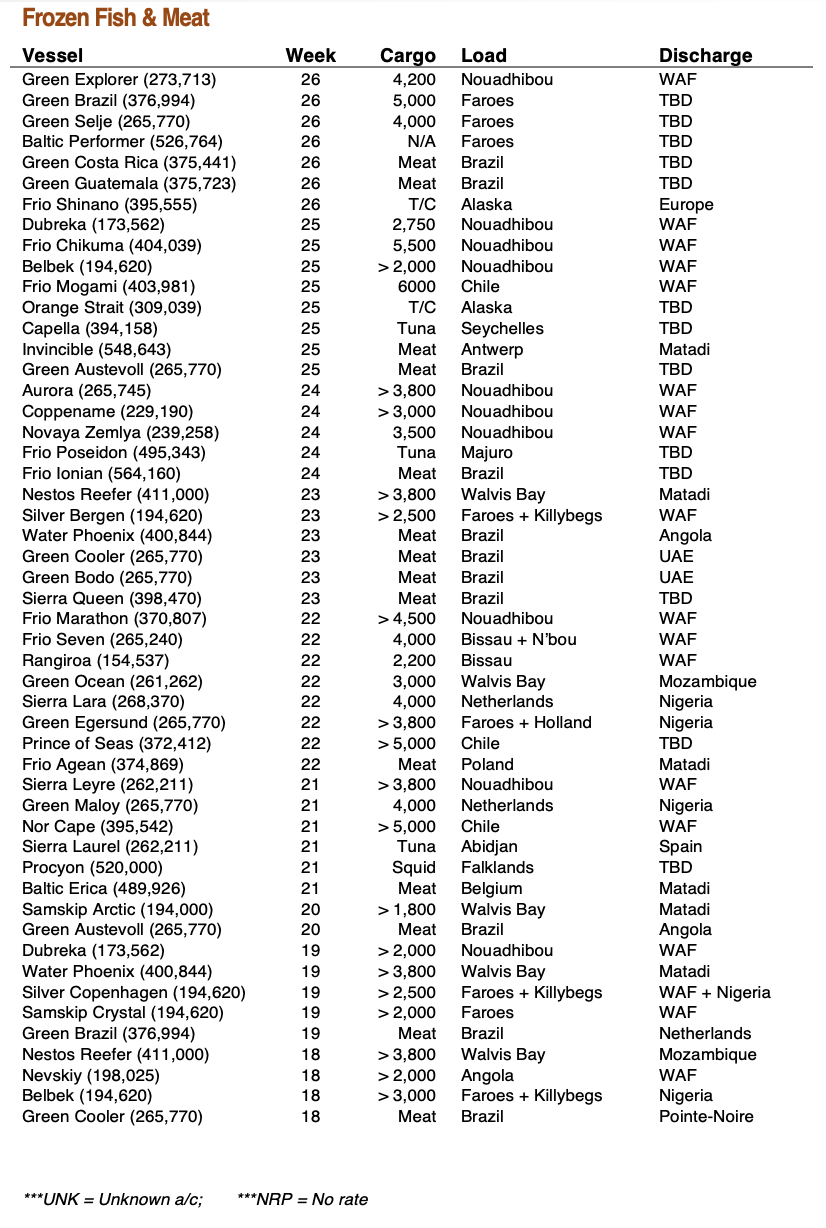 Seafield Reefer Index

270,000 cu.ft. TCE returns